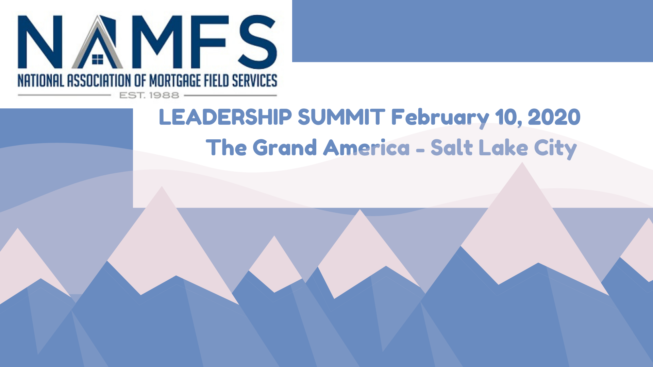 Member Only Content
For presentation materials, members should log-in
2020 NAMFS LEADERSHIP SUMMIT
NAMFS held this annual event at the Grand America in Salt Lake City, Utah Monday, February 10, 2020.  This event provides an open discussion of timely, industry-related issues and concerns with industry leaders with the goal of defining industry solutions to these issues.
This year the event was held the day prior to the Elevate Conference.  It event was broken into four distinct sections: Keynote, and then discussions on Technology, Classification of Workforce (W2 vs 1099), & NAMFS Creation of Industry Standards.
The Keynote was presented by Daren Blomquist of Auction.com.  The topic was pre-pandemic and focused on the the economy and the outlook for 2020.  The entire group then held a general discussion on where technology in the mortgage field services industry has been and will be in the next 3-5 years.  The discussions continued around the classification of mortgage field service professionals in light of the conflicting information from the DOL and individual states such as CA, MA, & NY.  The day concluded with a discussion on if NAMFS should be a body that creates industry standards and this included several possible areas.  These discussions were extremely positive and several takeaways in terms of Industry Standards were identified.  The worker classification remains a challenge especially with the upcoming Presidential election.