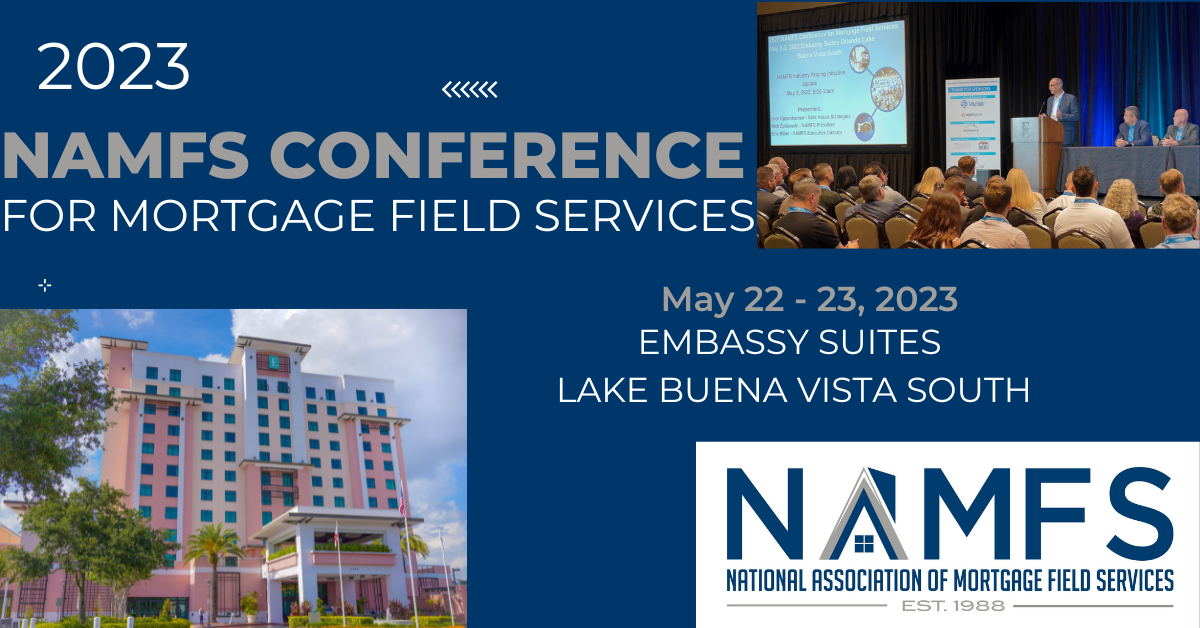 2023 NAMFS Conference Registration Is Open
The 2023 NAMFS Conference for Mortgage Field Services is being held May 22-23 at the Embassy Suites Lake Buena Vista South.  Verisk is our 2023 Co-Host Sponsor and we will have a session prior to the Welcome Reception on Monday, May 22.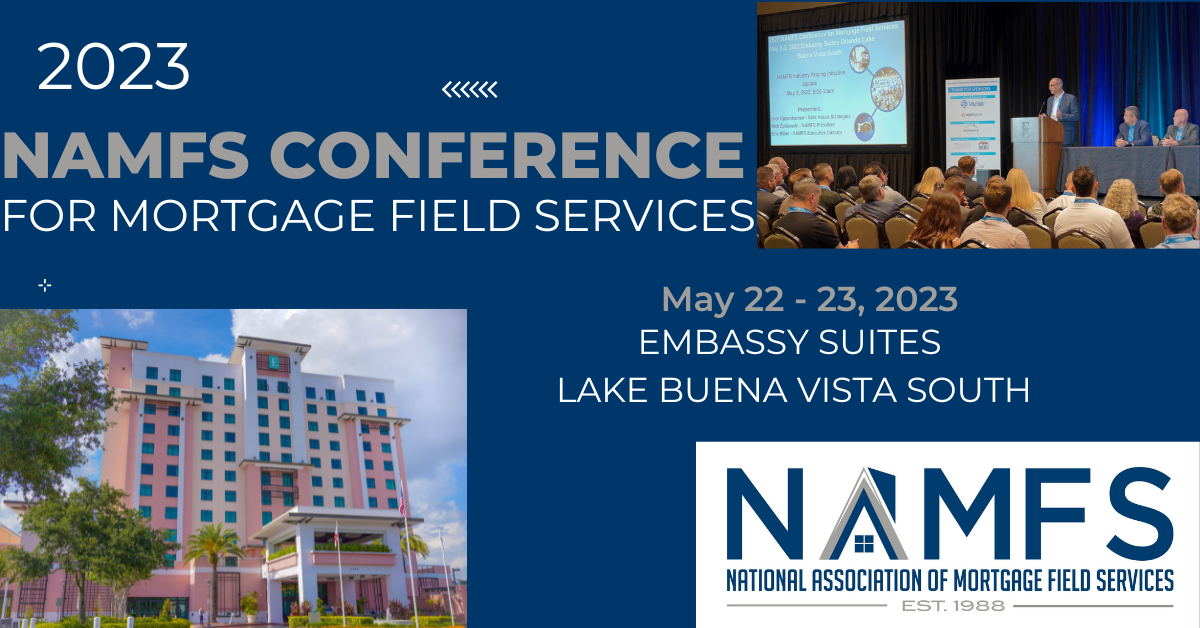 NAMFS Industry Pricing Initiative Update
To Mortgage Field Services Providers:
NAMFS has compiled a timeline for Year 1 of the INdustry Pricing Initiative.  We are pleased with the discussions that have taken place with the Investors/Insurers of the industry and look forward to additional progress as we begin 2023.
Talking Technology
The NAMFS Technology Committee has decided to provide our membership and the industry with information on issues in the mortgage field service industry.  The focus of these pieces is to encourage dialogue within all levels of our industry.  It is the hope that these conversations will lead to identifying a resolution that will work for the entire industry.
The first two articles in this series are:
NAMFS Industry Pricing Initiative Update
To Mortgage Field Services Providers:
NAMFS is pleased to share two documents with our membership and the mortgage field services industry.  We encourage our members to share this information with their network.
The first document, Mortgage Field Services Pricing Discussion, is the basis for conversations with the Investors/Insurers of our industry that set guidelines and allowables.  The basis of this document came from the information members and non-members provided in response to the October 2021 NAMFS Survey.
The second document is an Industry Pricing Pledge.  NAMFS is requesting that companies in our industry complete this document and send it back to us at admin@namfs.org.
NAMFS was able to present these two documents to FNMA on March 10, 2022.  The feedback received was positive and our information will be added to their current evaluation on pricing.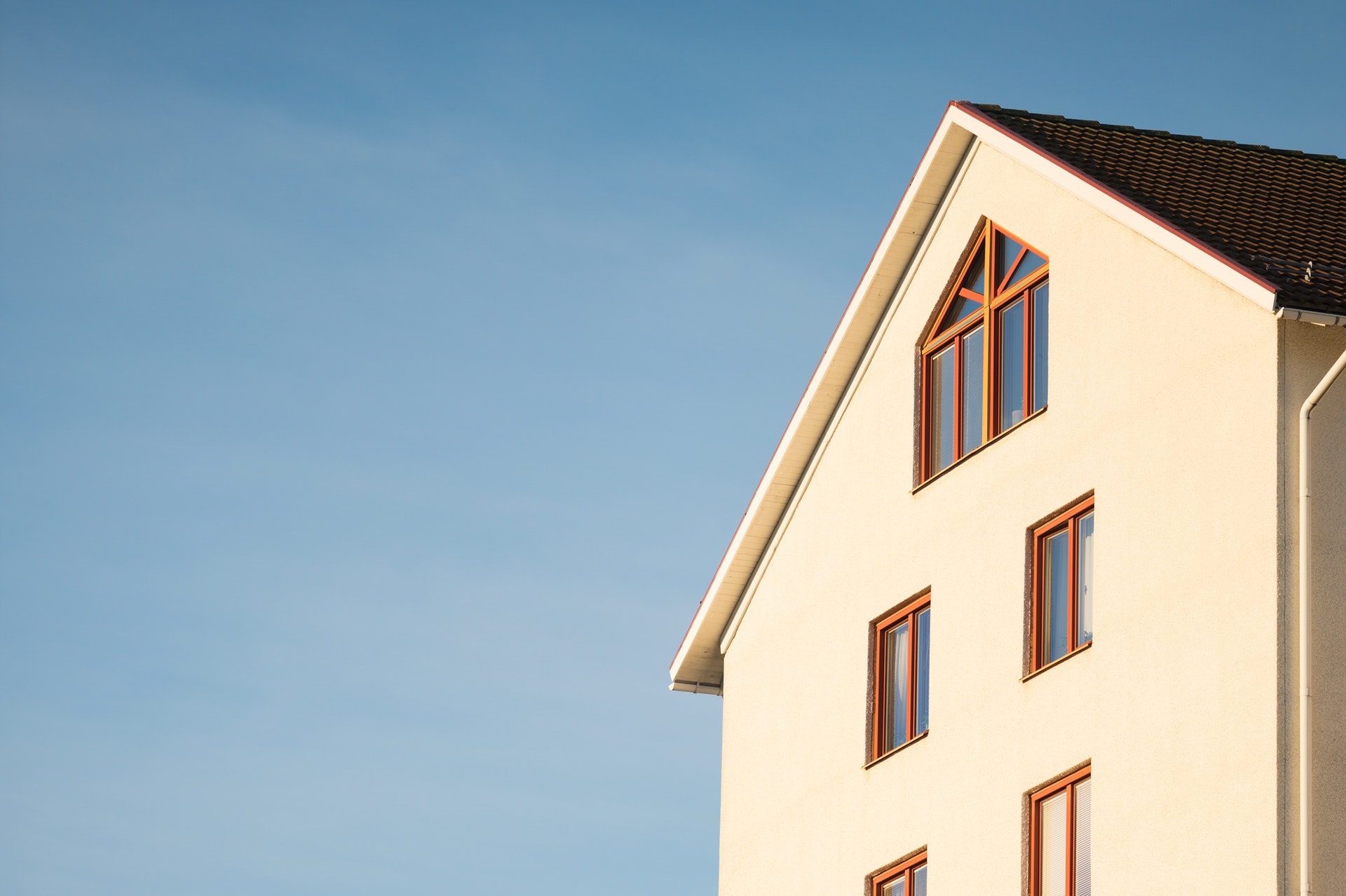 Uniting the Mortgage Field Services Industry
Founded in 1988, The National Association of Mortgage Field Services was created to provide its membership with a voice to all parties within the Industry. Members include Servicers, National Field Service Providers, Inspectors, Contractors and those offering industry-specific services.
NAMFS has expanded initiatives to include: Educational Opportunities, Networking Events, Communication & Industry Solutions.
NAMFS hopes this message finds you well and is providing an update on our ongoing initiative to enhance compensation for property inspections and preservation work. NAMFS, as the leading industry association, recognized its responsibility to create a platform for dialogue and collaboration among stakeholders. The Association's primary role is to facilitate discussions between Investors, Insurers,…
Read More