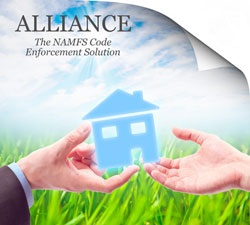 ALLIANCE – The NAMFS Code Enforcement and HOA Solution was conceived and developed by the NAMFS Leadership Team with significant input from members and industry professionals nationwide with the goal of providing users with a simple Web-based solution for addressing their at-risk property issues. Benefits of the ALLIANCE platform include:
Enhanced communication efficiency

Easy-to-use electronic forms

Direct contact ability via email and/or phone

Capture of key property attributes and conditions

User-friendly design and accessibility

FREE membership

Web-based access via NAMFS.org
What

i

s

ALLIANCE
ALLIANCE is a Web-based communications portal that provides users with an efficient means to share information regarding at-risk properties. The program allows for a cooperative exchange of information enabling all parties involved to connect via a common platform and share information before engaging in a lengthy and potentially expensive violation recording and remediation process.
How does ALLIANCE work?
Code enforcement officials and HOAs input property-specific information, including the code-related issues, comments and potential fines if not addressed via an electronic form. NAMFS' participating members then receive this information and agree to (a) review these properties and initiate contact with the appropriate party or (b) indicate they do not service the property.
Who can use ALLIANCE?
ALLIANCE is available for Code Enforcement Officials and HOAs throughout the country