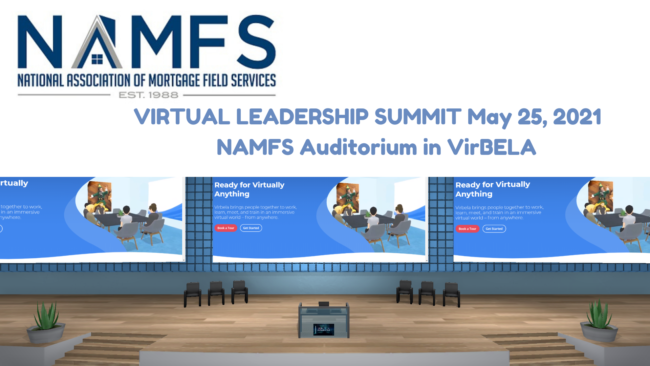 Member Only Content
Click the button to log-in to access the presentations.
2021 NAMFS LEADERSHIP SUMMIT
NAMFS held this annual event virtually in VirBELA due to the on-going Covid-19 pandemic on Tuesday, May 25, 2021.  This year's event provided an open discussion of timely, industry-related issues and concerns with the goal of finding consensus on solutions.
This year, the event consisted of four (4) distinct issues:  Application of Sales Tax, Outlook for the Distressed Mortgage Industry, NAMFS Defined Industry Standards including a Response to CFPB Moratorium Extension Proposal, and an Analysis & Discussion of Industry Pricing.
The session on Application of Sales Tax was led by Charlie Tuttle of TTR, an Avalera Company.  We then moved to the Industry Outlook, which was led by Daren Blomquist from Auction.com.  Matt Zoldowski, NAMFS President, then moderated the sessions on NAMFS Defined Standards and Pricing.  Each session allowed time for Q&A and the discussion was beneficial to all participants and the NAMFS Board.  We will be moving forward with additional NAMFS Standards and taking the next steps to elevate concerns around the State of Our Industry, including pricing.