NAMFS October 2022 Newsletter


2022-2024 NAMFS Officers & Board of Directors
NAMFS is excited to announce the completion of the election for our Officers and Board of Directors. 

The Officers for the 2022-24 term are:
Matt Zoldowski – President
Denia Ray – Vice President
Nicole McPherson – Secretary
Nickie Bigenho – Treasurer

The Directors for the 2022-24 term:
Joyce Milaszewski – JGM Property Group
Keith O'Donnell – iVueit
Kellie Chambers – MSI
Bill Garrecht – Innovative Field Services
Michael O'Connor – Aspen Grove Solutions

Directors filling an expiring 2021-23 term:
Chad Rulo – First Rate Field Services
Cole Meehan – East Coast Property Services

The remaining Directors for the 2021-23 term:
Matt Connelly – Gryphon Group
Jonathan Dietz – GIS Field Services
Phil Gallo – Allied Field Services
Please congratulate and/or contact these individuals as they provide direction for NAMFS.  

NAMFS 2021 Leadership Summit
NAMFS held our first in-person Leadership Summit since 2019 in Dallas, Texas on Wednesday, September 21, 2022. The event, which was invite-only, was well attended with five (5) servicers and a GSE represented.  The event kicked off with Daren Blomquist of Auction.com providing a look at the current and potential future state of the distressed market.  NAMFS was able to share an update on our Industry Pricing Initiative and a healthy discussion on this topic resulted in our bypassing the NAMFS Standard Inspection and Property Condition Report (PCR) forms.  These were shared post-event along with requests for feedback.  We closed the Summit with a conversation on HUD Policies and Procedures that create challenges for the Industry.
Thank you to our sponsors that made the event possible.  If you would like to review the presentations and materials please CLICK HERE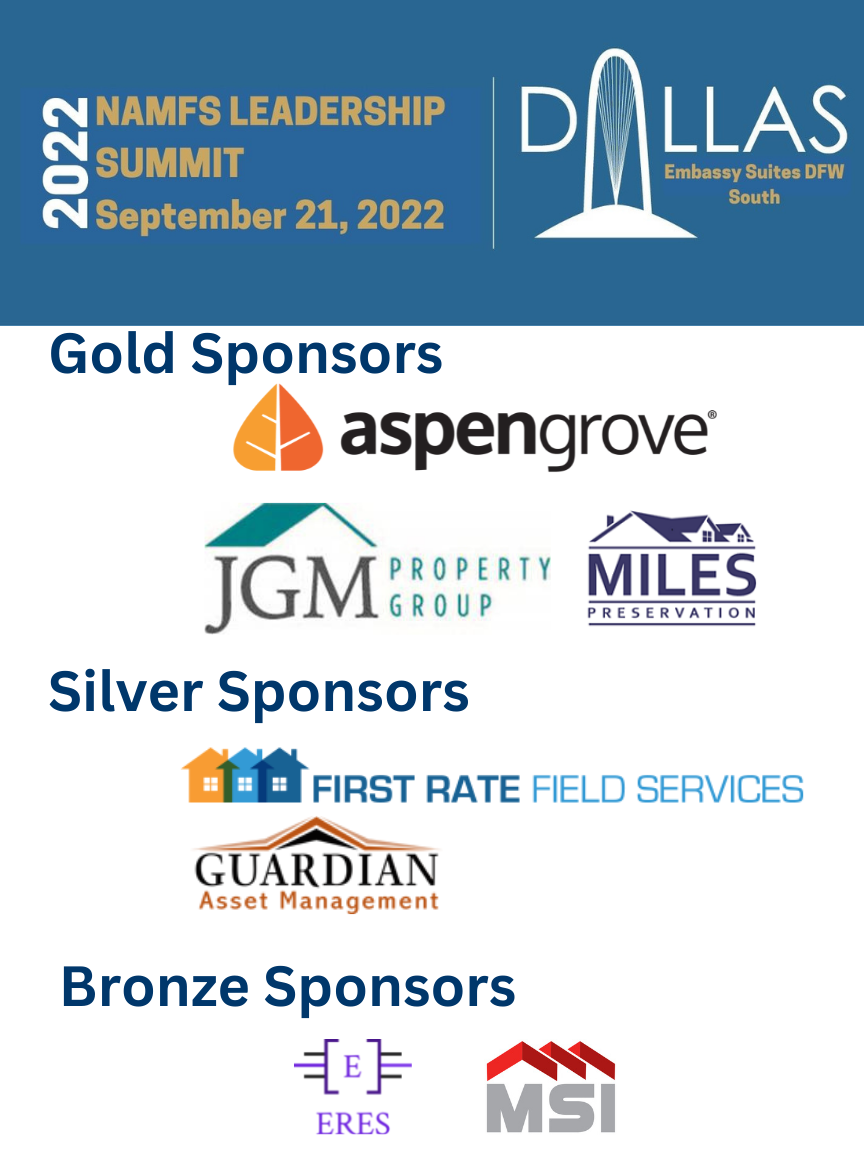 SAVE THE DATE

2023 NAMFS Annual Conference for Mortgage Field Services
NAMFS is pleased to announce an updated date for our in-person annual conference.

The event will once again be held at the Embassy Suites – Lake Buena Vista South and run from Monday, May 22 through Tuesday, May 23, 2023.

Registration, sponsorship, and exhibitor information will be sent out in November.  If you have suggestions for this year's event please contact NAMFS via email, admin@namfs.org, with 2023 NAMFS Conference in the subject line.

We look forward to seeing everyone next May!  

Get Involved!
The NAMFS Committees are once again looking for participants.  NAMFS maintains the following committees:

Industry Solutions
Membership
Technology
Education
Conference

If you are interested in any of these committees contact NAMFS via email at admin@namfs.org.


UPCOMING EVENTS

NPPC – November 2-3, 2022
NAMFS Executive Director, Eric Miller, will be a panelist at the event.